Mute and the Erasure Information Service have had some enquiries about the possibility of a vinyl edition of The Violet Flame being made available and we are interested to find out if such a format is feasible so if PLEDGE MUSIC recives 500 orders or more for a vinyl edition of the album, then we will produce one.
The vinyl would be a double album in a gatefold sleeve featuring The Violet Flame on violet vinyl on one disc, and six remixes on white vinyl on the other. The edition would be packaged in a gatefold sleeve with colour and gold print, inner sleeves featuring lyrics and would come with the album and the remixes as MP3 and WAV downloads.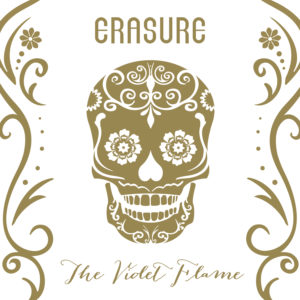 DISC ONE
SIDE A – Dead of Night
[3:17] / Elevation [4:18] / Reason [3:43] / Promises [3:47] / Be The One [3:44] SIDE B – Sacred [4:06] / Under The Wave [3:46] / Smoke and Mirrors [3:48] / Paradise [3:23] / Stayed A Little Late Tonight [3:53]
DISC TWO
SIDE A – Elevation (Extended Remix) [6:08] / Elevation (BT Remix) [7:10] / Elevation (Cutmore Remix) [5:25] SIDE B – Reason (Extended Remix) [7:08] / Reason (Parralox Remix) [4:02] / Reason (Carter Tutti Remix) [6:41]
When ordering your copy of the album, you'll gain access to exclusive bonus content and video clips, all of which will be exclusive to you.