As previously reported, on February 14th 2020 BMG will release the latest in their series of remastered and expanded Erasure CD reissues with a 3-CD edition of 'Chorus' featuring a remastered version of the original album on one disc; a selection of new and classic remixes, b-sides and bonus tracks on disc two; and a live version of the 'Chorus' album, recorded on Erasure's Phantasmagorical Entertainment Tour, on the final disc.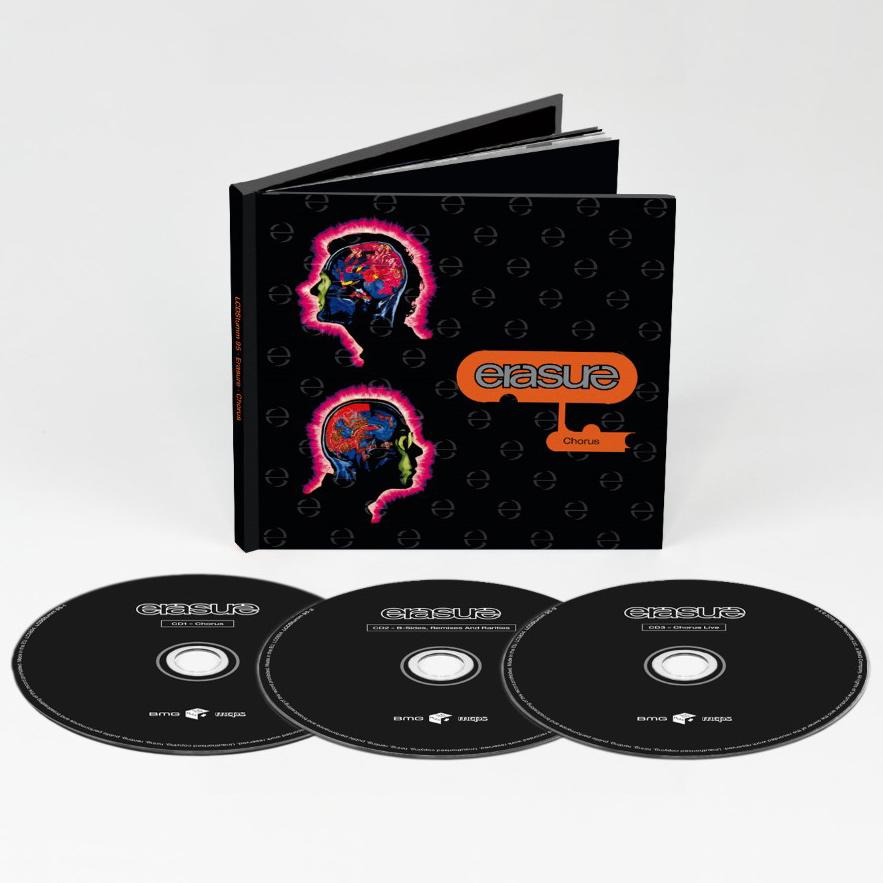 The remastered and expanded edition of 'Chorus' comes in deluxe hardback book packaging and is available to pre-order now using the links below. The first 2000 pre-order customers will also receive a bonus pack of four 'Chorus' postcards.
In addition to the extensive sleeve notes that accompany the remastered and expanded album journalist Mat Smith also produced a series of supplementary pieces about 'Chorus' which we will be presenting here over the course of the countdown to release.
The piece below is Mat Smith discussing the video to accompany the single release of 'Love To Hate You', and includes contributions from Vince Clarke, Andy Bell, and video director David Mallet…
---
ERASURE: INSIDE THE 'LOVE TO HATE YOU' VIDEO
David Mallet conceived that his video for 'Love To Hate You' – originally intended as a B-side – would be a continuation of his film to accompany 'Chorus', with Andy and Vince reprising their respective characters.
Most of 'Love To Hate You' plays out in a suburban terraced house in Ealing, West London, and as the camera moves around the house we find the duo performing with an endless array of instruments in each room. "I saw Vince's character as this mad scientist with lots of tape recorders and all of this bizarre electronic equipment," says David Mallet. "His character was based on one of my absolute heroes, Joe Meek. 'Love To Hate You' was basically Joe Meek, in his house, making these fantastic recordings of Andy."
Meek was a electronics enthusiast whose innovative forays into music production, usually using atypical recording methods and unreliable technology, yielded one of the most memorable moments in 60s music – 'Telstar' by The Tornados. "A brilliant track," nods Vince approvingly. A little like the songs on the 'Chorus' album, 'Telstar' sounded unlike pretty much everything of its time, in no small part thanks to its fantastically memorable melody having being played on a clavioline – a precursor to the synthesizer and entirely monophonic, just like the kit Vince had used exclusively during the 'Chorus' sessions. Joe Meek was also an admirer of Frank Sinatra, which explains the copy of Frank's 1956 album 'Songs For Swingin' Lovers' visible among the clutter of one of Vince's rooms.
The video for 'Love To Hate You' included segments filmed in the City of London's beautifully-preserved Leadenhall Market, its pubs and shops the preserve of brokers and underwriters from the nearby Lloyd's of London quarters. For those scenes, Mallet and his team installed a stage in the central covered crossroads of the market after the shops had closed, and filming ran on through the night until the early hours of the next morning. A number of Capital Radio competition-winning Erasure fans were invited to become the audience for a performance of the song that Vince and Andy's odd couple had been frantically working on in the rest of the video, replete with a troupe of flamenco dancers choreographed by Arlene Phillips. For those assembled fans lucky enough to don an exclusive pale blue Erasure-branded t-shirt, that video is responsible for some incredible memories, even for those in the front row who were doused in water as Andy stomped his way along the stage.
The song concludes with Vince hovering above the stage in a weird musical flying machine. This was Mallet reverentially nodding toward another genius, Leonardo Da Vinci, whose 15th Century designs for a rudimentary helicopter remain startlingly prescient.
Andy Bell remembers his time working with David Mallet fondly, calling the director "the first person to make me feel like a star." For Mallet that wasn't difficult. "It's because I thought he was a star, and it felt like everybody else didn't," he says, matter-of-factly. "Everybody else who filmed Erasure up to that point assumed they were just this little synth pop band and they wanted to present them that way, but it seemed to me that Erasure needed a touch of something else to widen their appeal, and also to make it a bit more fun. I like to think that the videos I worked on helped changed perceptions of them from an inward-facing band into a band with a bit of showbiz. The intent was to do something that was forward-facing, but also really strange. That's what those tracks sounded like to me, and so that's what I tried to do."
MAT SMITH