On February 14th 2020 BMG will release the latest in their series of remastered and expanded Erasure CD reissues with a 3-CD edition of 'Chorus' featuring a remastered version of the original album on one disc; a selection of new and classic remixes, b-sides and bonus tracks on disc two; and a live version of the 'Chorus' album, recorded on Erasure's Phantasmagorical Entertainment Tour, on the final disc.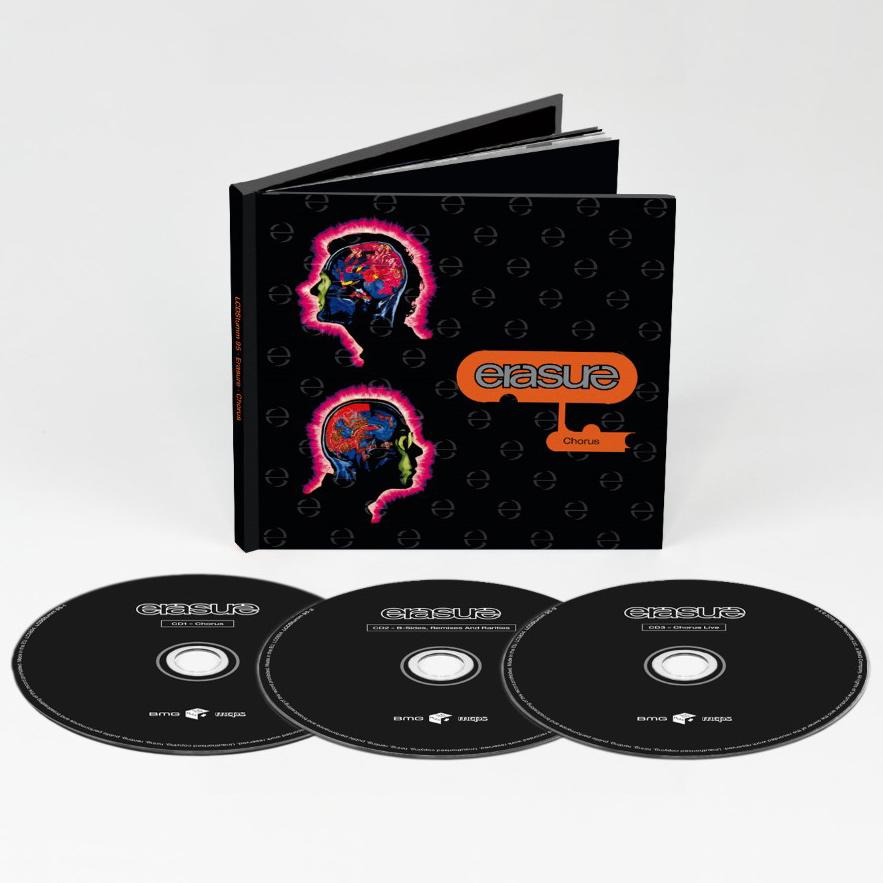 The remastered and expanded edition of 'Chorus' comes in deluxe hardback book packaging and is available to pre-order now using the links below. The first 2000 pre-order customers will also receive a bonus pack of four 'Chorus' postcards.
In addition to the extensive sleeve notes that accompany the remastered and expanded album journalist Mat Smith also produced a series of supplementary pieces about 'Chorus' which we will be presenting here over the course of the countdown to release.
The piece below is Mat Smith discussing the video to accompany the single release of the album's title track, 'Chorus', and includes contributions from Andy Bell and video director David Mallet…
---
ERASURE: INSIDE THE 'CHORUS' VIDEO
"Erasure's 'Chorus' album wasn't just their most sonically adventurous record since Andy Bell and Vince Clarke formed the duo in 1985; its singular electronic vision of being entirely monophonic with no chords was also accompanied by memorable videos for the album's four singles – 'Chorus', 'Love To Hate You', 'Am I Right?' and 'Breath Of Life'. These were videos that were more like highly artistic vignettes than the traditional music promos churned out by labels looking to get additional airtime on MTV or The Chart Show for single releases, laden with equal measures of humour and poignancy.
'Chorus' was directed by David Mallet, legitimately regarded as a member of rock music royalty thanks to his videos of Queen, Blondie and Peter Gabriel. He was also responsible for David Bowie's singularly odd 'Ashes To Ashes' from 1980, a song that Andy happens to adore. As well as featuring some genuinely freaky effects and treatments, the memorable video for 'Ashes To Ashes' found Bowie and a coterie of bizarrely-dressed, vampiric New Romantic darlings stalking across a beach scene that looked like it might have been the surface of the moon. The beach was at Pett Level in East Sussex, bordered by intimidating cliffs and a mysterious ancient forest still visible at low tide.
Some of those settings, and some of those crazy colour effects, look remarkably similar to the beach used in various scenes from the video to accompany 'Chorus', designated the first single to be taken from the album after Vince's favourite track, 'Home', was relegated to the record's closing moments. "I didn't mean to rip off my own video," insists David Mallet. "I just thought that the world that Andy sings about on 'Chorus' sounded as if it could be this slightly surreal moonscape kind of place, and so it seemed to lend itself to that same beach."
Strange sections filmed on a Sussex beach weren't the only odd moments in that video. We see a naturalistic-looking Andy dancing and clicking his fingers in a pair of dungarees while a pressure cooker lets off steam, we see the duo performing in a vivid, bright yellow corn field, emerging from the water and almost drowning as the tide came in around them on the beach.
For Andy, these scenes were metaphors for what he'd been feeling when he wrote 'Chorus'. "It came from feeling like I was snowed under with all this stuff," he recalls. "It was about materialism and just being swamped by everything. I didn't really think about what was going on in our careers or our personal lives, because we were just doing it and being successful. You didn't really have time to reflect on it, and I honestly didn't think about a thing. I didn't think about how successful we were becoming and stuff like that, you know? I was just having a good time and going out all the time."
Perhaps the most compelling thing about the 'Chorus' video is Vince's performance. Here we find him wild-eyed, immaculate in a suit but almost manic in the way he hacks away at a massive, ancient-looking electronic system that looks more like a power station control desk than a synth. That same crazy character would appear again in Mallet's video for 'Love To Hate You', creating an intentional link between the two shorts."
Mat Smith
---