On February 14th 2020 BMG will release the latest in their series of remastered and expanded Erasure CD reissues with a 3-CD edition of 'Chorus' featuring a remastered version of the original album on one disc; a selection of new and classic remixes, b-sides and bonus tracks on disc two; and a live version of the 'Chorus' album, recorded on Erasure's Phantasmagorical Entertainment Tour, on the final disc.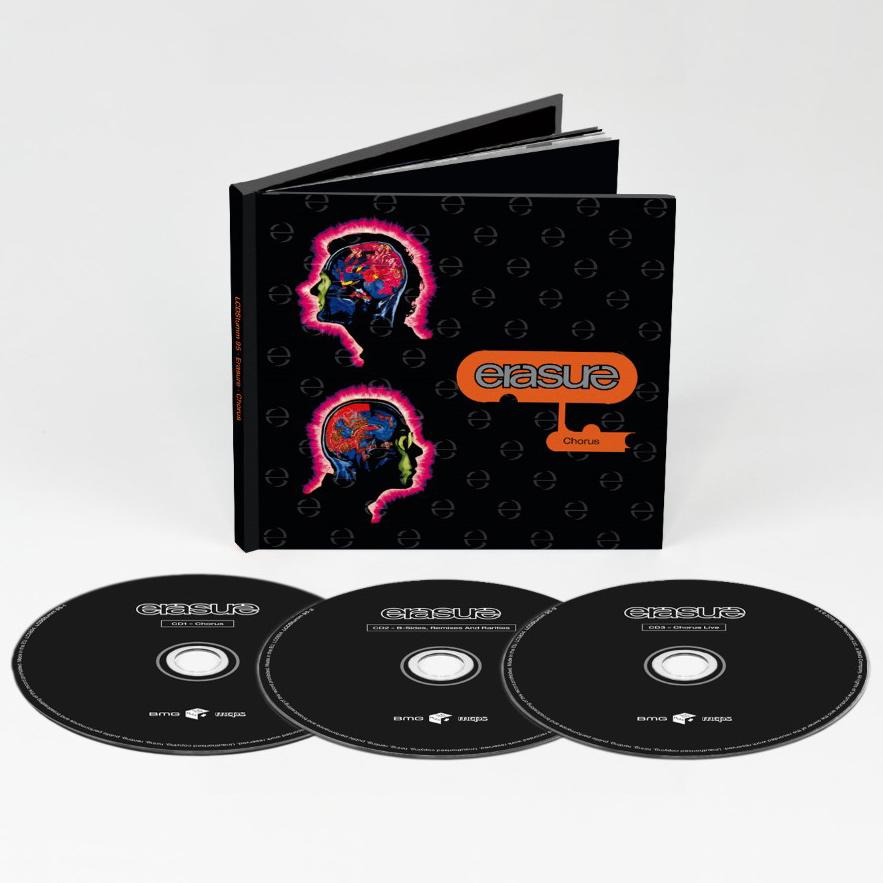 The remastered and expanded edition of 'Chorus' comes in deluxe hardback book packaging and is available to pre-order now using the links below. The first 2000 pre-order customers will also receive a bonus pack of four 'Chorus' postcards.
In addition to the extensive sleeve notes that accompany the remastered and expanded album journalist Mat Smith also produced a series of supplementary pieces about 'Chorus' which we will be presenting here over the course of the countdown to release.
The piece below is Mat Smith discussing the video to accompany the single release of 'Breath of Life', and includes contributions from Vince Clarke and video directors Angela Conway and David Mallet…
---
ERASURE: INSIDE THE 'BREATH OF LIFE' VIDEO
By the time Angela Conway was ready to film the 'Alice In Wonderland'-themed single for the final track from the album, 'Breath Of Life', preparations for The Phantasmagorical Entertainment tour were already in full swing. "Andy was certainly more interested in the live show than doing the video, and we didn't have a lot of time to get it done," recalls Conway. "On the whole, I don't think that one worked that well, actually. Some of the shots are alright, but as a whole it doesn't work as well and it just seems to lack something compared to 'Am I Right?' for me."
The bizarre video was filmed at a studio in Neasden and the Olympic diving pool in White City. Its scenes feature Andy holding a goose that insisted on biting him repeatedly, an Alice character ushering Andy through the Looking Glass, the hookah-smoking caterpillar, singing oysters, and dubious-looking mushrooms, with lush painted sets and backdrops evoking the most beloved scenes of Lewis Carroll's trippy tales.
As well as some very graceful swimming from Andy in silk pyjamas, one notable moment in the video finds Vince dressed as the tearful Mock Turtle. "He was fine doing that!" laughs Conway. "He seemed to be less reluctant doing that than compared to the Amsterdam video for 'Am I Right?'. I certainly didn't feel any resistance to it."
"She's really nice and so I wasn't going to say no," remembers Vince. "I probably said to Angela, 'Look, I'll turn up as long as I don't have to be there first thing in the morning.' That was always a pain – you always had to be there at five o'clock in the morning or something like that. I don't know why, but you did. Apart from 'Take A Chance On Me', that was the last video that I did. Since then I've been in a couple, but when I decided that I didn't want to do videos anymore, 'Breath Of Life' was the last straw!"
Despite some memorable performances in videos over the years, Vince confesses to never having really enjoyed the process. "Andy loved doing them. Then again, he's a natural performer and so I think for him it made more sense. I always felt very awkward. But the main reason why I didn't want to make videos anymore was because the amount of money we were spending was almost more than what we were spending on making the record. Some of the directors were just charging really stupid money. It just felt all topsy-turvy to me. I thought all the money and the effort should be going into making the music, not into making videos."
The four videos for the 'Chorus' singles were the connective tissue between the strange ambience of the album and the complex theatrics of The Phantasmagorical Entertainment tour that followed "I always thought the tour was actually them carrying on from the videos, in a funny sort of way," muses David Mallet, who directed the videos for 'Chorus' and 'Love To Hate You' and 'The Tank, The Swan And The Balloon' tour document. "I've often wondered whether the videos didn't create a lightbulb moment in Andy's head, and that's why that tour looked like it did."
MAT SMITH